Mundole Equestrian is a venue for all Equestrian Events, with easy access all-year round and ample parking.
Find out more about our facilities.
Welcome
With modern facilities, a busy calendar of events and a wide range of services, Mundole Equestrian is rapidly becoming the venue of choice for Events in the area. With an established reputation for hosting Dressage and Showjumping, and an expanding programme of activities, Mundole Equestrian offers something for competititors of all ages and abilities. Our aim to develop our events and services to suit our customers, and we respond actively to any suggestions for improvement, in order to ensure that we maintain our high levels of service.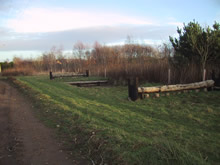 Development
Mundole Equestrian is set in ample grounds, allowing the construction of a Cross-Country course, as well as the flexibility to add whichever facilities are required in future. Floodlighting is being installed and the all-weather arena already allows events to continue in wet conditions. Livery services and stabling have recently been offered, making Mundole an ideal centre for Equestrian activities.
Contacts
To contact Mundole Equestrian, please email Jenny here. Many of the images used here are courtesy of Foxphotographics, and you can contact Jason here.